It seems like every day, a new app comes on the scene that promises to increase productivity. Yet we can all relate to the dilemma of needing to track down a specific piece of information and having to hunt through email, chat apps, project management tools, and file storage systems to no avail. The fact that critical information is scattered across multiple tools can seriously interrupt your workflow and reduce efficiency - essentially, the technology that was supposed to be the answer has instead become the problem.
This reality becomes more acute when large-scale initiatives require technical and non-technical teams to work together; project managers tend to manage their work differently, and in different tools, than software engineers. Now, thanks to integrations between tools, there are more effective strategies to ensure that everyone has access to the information they need, when they need it, without any group having to sacrifice their preferred work management approaches.
Everything You Need, All in One Place
You can use Smartsheet for Jira to track and manage Jira issues in Smartsheet. Once an Administrator has established a connection between Smartsheet and Jira (Cloud Server or Self-Hosted Server), you'll be able to track work items, monitor progress, and make updates between the two services. Just getting started with your Jira integration? Or wondering why you would? This session introduces the basic terms you should know and how the Smartsheet for Jira connector can add value for your organization. View the presentation deck.
The Smartsheet for JIRA connector is one example of an integration that helps cross-functional teams work better together. Both tools automatically update when changes are made in either, and to take it one layer deeper, both work with Confluence. Confluence by Atlassian is wiki software used heavily by teams that work in JIRA day in and day out. According to Atlassian, more than half of teams who use JIRA also use Confluence to connect with the content they need to get their work done.
With Smartsheet and Confluence, you can embed anything in Confluence that you can publish in Smartsheet, including sheets, web forms, reports, and dashboards. As changes are made, published Smartsheet items in Confluence are updated in real time, so you can be sure that everyone has access to the most current information. Additionally, you can access Smartsheet and JIRA directly from Confluence if further drill down is desired.
Best of all, it can be done in minutes. Here are five steps to embed a published piece of content from Smartsheet in Confluence:
Enable the HTML Macro in Confluence.
Publish your Smartsheet sheet, web form, report, or dashboard. You will end up with a publicly accessible URL.
Log in to Confluence and go to the page where you would like to embed the published Smartsheet content.
Edit the page.
Add an HTML Macro on the page and add the following iFrame, making sure to change the URL from step two to the SRC parameter:
<IFRAME WIDTH=1000 HEIGHT=700 FRAMEBORDER=0 SRC='http://publish.smartsheet.com/0a9478a1798b486f90696'></IFRAME>
Top Ways to Improve Efficiency with Smartsheet and Confluence
Here are four ways that you can use Smartsheet and Confluence to ensure everyone has access to the information they need:
Report on high-level KPIs across the organization. Whether you're working toward project, program, or organizational KPIs, it's important to make sure everyone who is responsible for contributing to those goals is aware of and tracking toward them. With dashboards in Smartsheet, individuals, managers, and executives get a quick, visual status of their top KPIs and the status of those goals - all in one view. Publish and embed dashboards into Confluence to ensure key stakeholders have access to KPIs.
Communicate critical plans to cross-functional teams. When teams from multiple departments are involved in a real-time communications process, clear line of sight into actions to be taken is key. For example, at Smartsheet we have a critical situation plan that is activated should an issue with the app or website arise. This plan involves steps that individuals on our marketing, engineering, snoc, executive, and support teams are responsible for, so it needs to be accessible to all parties, in real time. We track and make updates to this plan in Smartsheet and then embed the sheet to Confluence to ensure everyone has access to the most up to date process.
Track cross-departmental project plans and status. Large-scale initiatives have hundreds of tasks that must be completed on time or run the risk of budget and timeline overruns. That's why project timelines must be easily accessible to all responsible teams to ensure they know their deadlines and those deadlines affect other tasks. With Smartsheet and Confluence, the project manager can create, update, and track project timelines with a Gantt chart in Smartsheet and then embed the published project plan in Confluence so the relevant technical team members can find the details they need to stay on track.
Escalate your ticket submission and resolution process. If your organization uses JIRA Service Desk for IT ticket submission and resolution, it may be difficult for business stakeholders to get a greater view of overall status and metrics. Smartsheet for JIRA solves this issue by using a simple web form in Smartsheet and keeping all the data synced across both tools to improve visibility across teams. To ensure everyone has access to the ticket submission web form, and to expedite the identification and resolution of issues, embed the published form in Confluence so submitters can quickly find and submit the form directly from that location.
Reduce App Overload, One Process at a Time
With Smartsheet and Confluence, you can be assured that key stakeholders have access to and can easily locate all important information in the tools they already use. This helps to keep your teams in the loop and maintain a high level of productivity by reducing the app fatigue felt by so many. Just another way that Smartsheet with Atlassian together, helps you work better.
Contact us to learn more about streamlining the way you work with Smartsheet and Confluence or JIRA.
Smartsheet integrations with Jira Cloud
Use Zoho Flow to integrate Smartsheet with Jira Cloud, in atleast 38 different ways, without writing code. Automate any tasks that keep you away from what you do best.
AUTOMATE
Automate redundant manual tasks and save your precious time and effort
ORCHESTRATE
Orchestrate your business process by integrating the apps you use efficiently
Explore prebuilt integration flows to get started
Smartsheet And Jira
Load More
Didn't find the integration you are looking for? Create one yourself.
All Triggers
- A trigger kickstarts the flow
Row updated
Triggers when an existing row is updated
Issue added
Triggers when an issue is added to the selected project
Jira And Smartsheet Integration
Project created
Triggers when a new project is created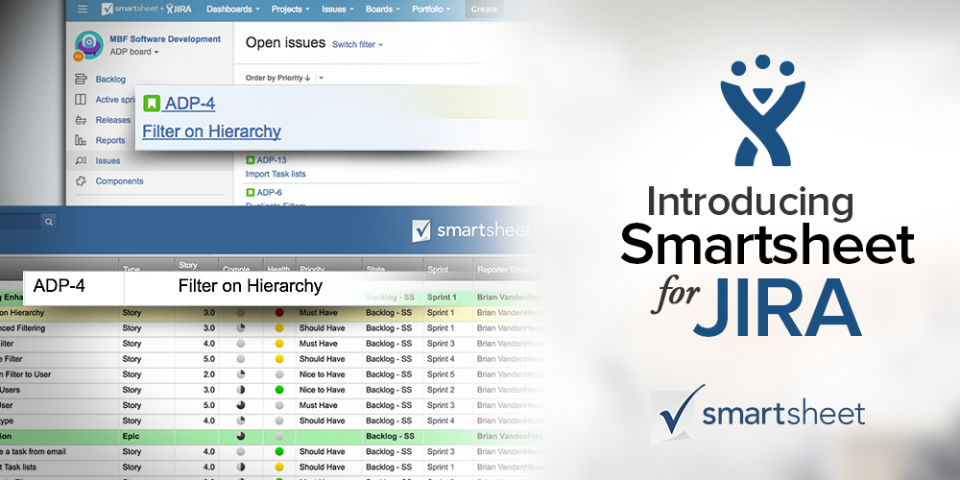 Issue updated
Power Apps Jira Connector
Triggers when an issue is updated in the selected project
Work log created or updated
Triggers when a work log is created or updated
Issue status updated
Triggers when the status of an issue is updated
Comment added
Triggers when a new comment is added
Load More
Smartsheet Jira Integration
All Actions
- Action are the automated tasks
Add row to sheet
Adds a new row in the selected sheet
Update row
Updates the details of the specified row
Fetch row
Fetches the details of the specified row
Create comment
Creates a new comment for the specified issue
Create issue
Creates a new issue in the selected project
Update issue
Updates the details of the specified issue
Fetch user
Fetches the details of an existing user by email address
Load More
What is Zoho Flow?
Zoho Flow is an integration platform that helps you connect your apps without any code. Automate complex business workflows within minutes. Set a trigger, add actions, use Delays and Decisions to create your entire workflow on an easy to use builder.
Start your 15 day free trial
Testimonial
Owain ap Rees
Sales Director, Artico
"It is amazing what processes can be automated [with Zoho Flow]. It can be difficult to visualize what can be done. Ask the experts at Zoho Flow, they can tell you straight away and if it needs customization they will help you build it!" Know more
Watch Zoho Flow in action
Advanced tools to help you build complex workflows in minutes
Smartsheet User Guide
Webhooks
Use the webhook trigger to receive data from a wide range of services in multiple formats, including JSON, form data, and plain text.
Schedules
Execute actions automatically at specific times every day, or on a particular day of every week, month, or year.
Decisions
Include if/then branches to have your workflows carry out different sets of tasks based on the conditions you specify.
Delays
Smartsheet And Jira Integration
Set time delays between any two actions in your workflow. Stall actions for hours, days, weeks, or even until a specific date.
Custom functions
Smartsheet Confluence Integration
Write simple scripting functions to format data, call web APIs, send emails, and more.